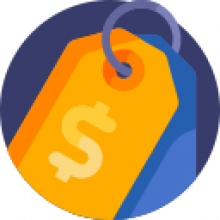 Increase/Discount prices on items
This report allows you to edit the items' prices applying a percentage of increase or discount in Invoice4Cloud. Massive procedure that applies to all items coded in the program
---
The report applies to the items in the program Invoice4Cloud, changing prices. You can choose whether to apply a percentage that increases or decreases the price of the item, per single item or for all items in a single operation.

When the Component is installed, go to the report icon of the program and click on Edit Prices Item under Utilities. By clicking Process, all the articles appear, you indicate the percentage to be applied in the percentage field and then click Process again to see the initial price and the calculated price.
If you want to change the price to all items in one operation, leave them all selected and click on the top right on Actions, Apply prices, and then find the changes in the articles section.
If you want to change only the price of some Items, you have to click elaborates on all, then deselect the Items to leave unchanged and, at this point you click on the top right on Actions, Apply prices to find the prices just changed, in the section Articles.

N.B. If you do not click Apply prices, leaving the report will not apply any changes to the price of the items.
Did not find the addon you were looking for?
Write us to request the addon tailored for you!