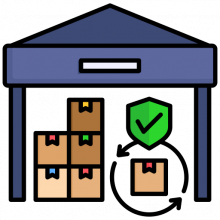 Loading/Unloading Warehouse Management Online
Warehouse Management Software and online Inventory. Loading and unloading of Items in real time, updated stock with internet coverage on all devices.
---
For the complete, optimized and multi-user management of the Warehouse: movements, stocks, inventory and stocks always updated. Data warehouse solution for small and medium enterprises, with mobile data collection from different storage locations.
The online warehouse management is implemented in the management program, to optimize production, ensure control of products in decay, cyclical inventory, economic value of stocks in the company.
Articles can be loaded and updated manually or with a massive export in the management. Items can be downloaded from a document of your choice: Orders, Invoices, DDT, Reports, Work orders etc.
To optimize the inventory in the warehouse in real time.

The service includes:
- creation of the flows of Loading and Unloading of items
- loading and unloading occurr when the documents are saved
- stock controls, inventory always up to date in real time Online
- Implementation of Returns Management Articles
- control and reporting of minimum stocks in stock in real time
- minimum and maximum stock management for each item
- creation of a new filtered subsection for the direct display of Products in stock
- Technical side interface customization to display or hide cost and sales price fields


HOW THE SERVICE WORKS
Buy the Loading/Unloading Warehouse Management Online. You will be contacted by one of our technicians to agree on the details of the work. In the meantime, we also suggest that you email us a copy of your current Documents with data for the Warehouse flow.
For any doubt write to help@d-one.info
Did not find the addon you were looking for?
Write us to request the addon tailored for you!